The Philippines - Teacher Tour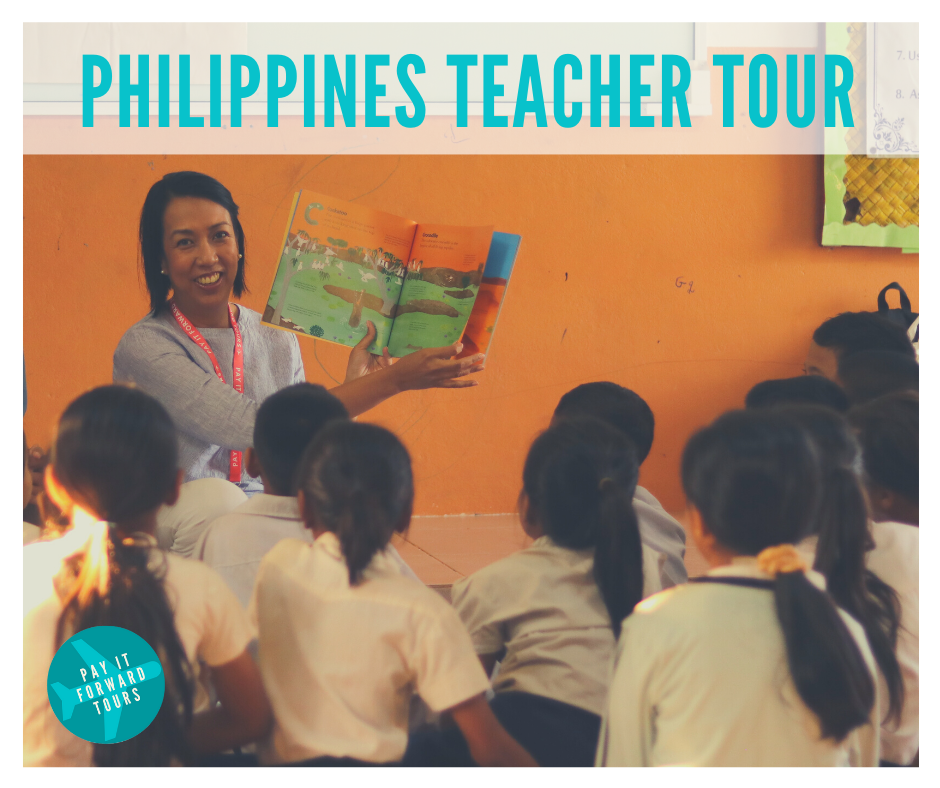 Varaktighet: 10 Dagar (cirka)
Plats: Manila
Join us for a fascinating 10-day tour through the heartland of this diverse country. Visit local schools in Manila. Connect with the educators that dedicate their time to supporting and empowering local students through education. Travel to exotic Palawan and enjoy a luxurious time experiencing island life here. Explore the 7th Natural Wonder of the World, Puerto Princesa's Underground River Cave. Stay in grand hotels with gorgeous sea views!

Pay It Forward Tours is pleased to announce our collaboration with EAL/D specialist and current President of the Association for Teaching English to Speakers of Other Languages (ATESOL NSW), Cindy Valdez. We offer you a life-changing opportunity to take part in a unique professional learning and travel experience.
Each day, more and more educators find themselves working with students who have a language background other than English. Students from diverse backgrounds will continue to walk into our classrooms on a daily basis, and therefore, it is important that we develop an understanding as to how English learners acquire second language literacies.
"Artful Reading"' aims to:

identify the literacy and language learning needs of ELL students who are learning English.
collaboratively design learning and teaching strategies to develop reading strategies.
team-teach a learning sequence, provide feedback and share our reflections with colleagues.

During your 10-day tour of the Philippines, you will also explore the beauty and culture of this wonderful country, develop a first hand understanding of the beliefs, traditions and customs as you are immersed in this rich culture. You will grow personally and professionally as you have the opportunity to visit local classrooms and organisations during your 10 day journey through the Philippines.
Teachers are encouraged to plan an activity/ lessons and bring along some resources that can be left at the school for future use.

Some important information:
A percentage of your tour fee will be donated on your behalf to the organisations/ schools that we visit along the way - You are already 'Paying it forward'.
You are required to complete an e-Travel document prior to travel.
You are required to adhear to Philippines COVID travel advice and safety and have all required documents prior to travel.
We require a deposit to secure your booking. If you decide to cancel your booking, our cancellation fees will apply, as per our booking conditions.
If you are an Australian teacher or educator, travel and tour costs may be fully tax deductible. Please see your financial advisor for further information and advice. After full payment is made, you will receive a full invoice as proof of purchase for tax purposes.
If you are wishing to share accommodation with another adult, you are required to book as an 'adult'.
If you do not wish to share accommodation, please book under 'single traveller'. This will require you to pay a single traveller supplement.
As this tour visits organisations that work with children, we require all travellers to complete Working With Children Check prior to commencement of travel.
Flights from Australia to the Philippines are NOT included.
Flights from Manila - El Nido and Puerto Princesa - Manila, ARE included. These flights are non-refundable if tour is cancelled within 30 days of travel.

Payment schedule:

50% will be charged at the time of your booking.
100% will be charged 15 days prior to the commencement of the tour.