Heart of Nepal Tour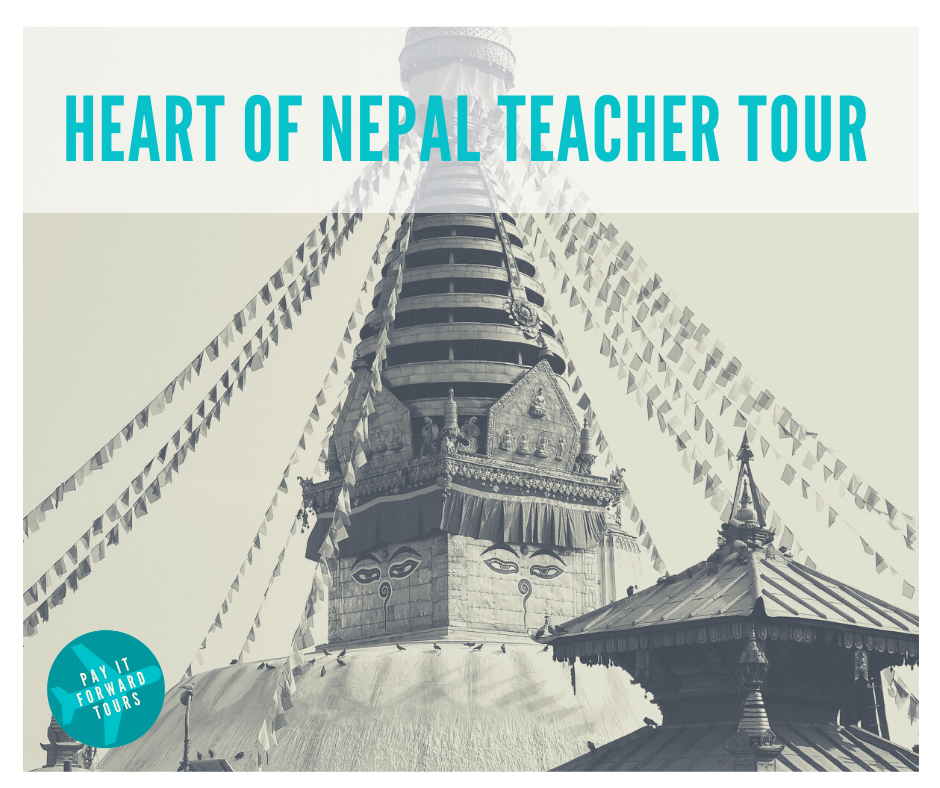 Duration: 10 Days (approx.)
Join us for a 10-day tour of incredible Nepal.
This tour will commence in bustling Kathmandu. Here you will explore this vibrant city and have the opportunity to spend time working closely with teachers in a local Kathmandu school. You will then travel to the majestic mountainside town of Nagarkot where you will catch glimpses of the breath-taking Himalayas.
Pay It Forward Tours is pleased to work in partnership once again with internationally respected educator and mentor; Annette Udall. Together, we offer you a life-changing opportunity to take part in a unique travel and teaching experience. Take part in International Learning Observations abroad.
Do you have a passion for teaching? If you are a teacher, school leader or education professional, we highly recommend taking in this unique experience. This tour offer participants 25 hours of Teacher Elective Professional Development towards maintenance of accreditation at Proficient, Highly Accomplished and Lead.
During your 10 day tour of Nepal, you will take part in the Instructional rounds process, but the magic doesn't stop there. You will also explore the beauty and culture of Kathmandu, Bhaktapur, Nagarkot and Kathmandu.
Teachers are encouraged to plan an activity/ lessons and bring along some resources that can be left at the school for future use.
Some important information:
This tour will commence in Kathmandu. Please ensure you arrive at least one day prior to the commencement of the tour. Please contact us to confirm the hotel we will commence the tour from.
You are required to have and Visa to enter Nepal. These can be obtained prior to travel, or on arrival. They are approximately $25USD
All travellers must show documentation relating to Covid-19 travel requirements.
A percentage of your tour fee will be donated on your behalf to the organisations/ schools that we visit along the way - You are already 'Paying it forward'
We require a deposit to secure your booking. If you decide to cancel your booking, our cancellation fees will apply, as per our booking conditions.
If you are an Australian teacher or educator, travel and tour costs may be fully tax deductible. Please see your financial advisor for further information and advice. After full payment is made, you will receive a full invoice as proof of purchase for tax purposes.
Please note:
If you are wishing to share accommodation with another adult, you are required to book as an 'adult'.
If you do not wish to share accommodation, please book under 'single traveller'. This will require you to pay a single traveller supplement.
As this tour visits organisations that work with children, we require all travellers to complete a Working with Children Check prior to commencement of travel.
Payment schedule:

20% will be charged 90 days prior to the commencement of the tour.
50% will be charged 65 days prior to the commencement of the tour.
100% will be charged 35 days prior to the commencement of the tour.